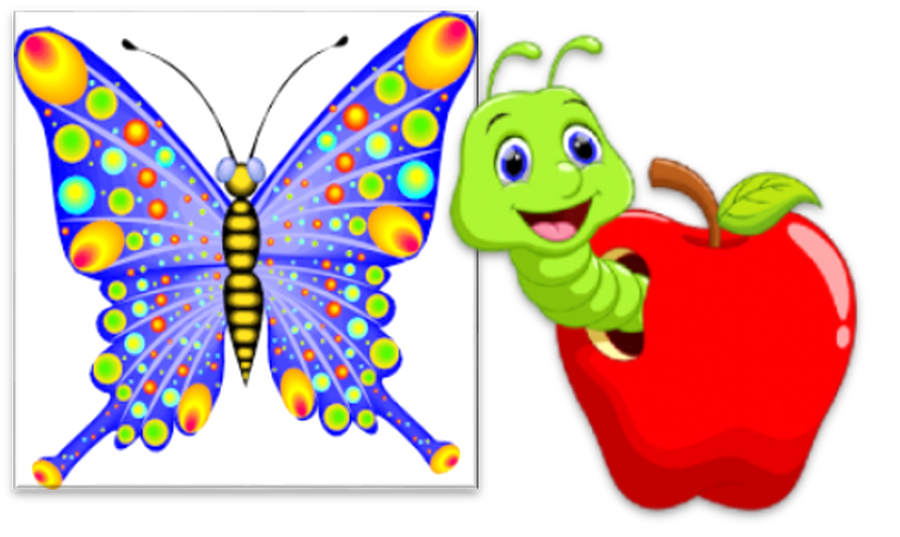 Butterfly & Caterpillar Class
Year Group: Reception
Key Stage: Foundation
Taught by: Mrs Edgar & Miss Wilkinson
Supported by: Ms Garrett, Miss Price & Miss Simpson
Welcome to Butterfly and Caterpillar Class!
We are home to the Butterfly and Caterpillar groups. The youngest children in school are always active and engaged in exciting topics. Our fantastic learning environment offers a range of play based activities for the children to access independently, alongside focused activities to develop key skills such as reading and writing.
Diary Dates
Early Years Foundation Stage
The Early Years Foundation Stage (EYFS) is how the Government and early years professionals describe the time in your child's life between birth and age 5. For Calverley CE this means children in our Reception classes.
This is a very important stage as it helps your child get ready for main school as well as preparing them for their future learning and successes. From when your child is born up until the age of 5, their early years' experience should be happy, active, exciting, fun and secure; and support their development, care and learning needs.
Nurseries, pre-schools, Reception classes and childminders registered to deliver the EYFS must follow a legal document called the Early Years Foundation Stage Framework.
Follow the link to download a parents guide to the EYFS.

Parents Guide to the EYFS
At Calverley CE, we care about developing the 'whole' child - socially, emotionally, physically and educationally.
In the early years, play is a strong motivating factor in learning and it is positively encouraged within our school environment both inside and out. It is not trivial; it is essential. Through play young children can develop skills, concepts and attitudes. Its importance cannot be over-emphasised.
Valuable experience will be gained through a variety of situations in a stimulating, structured and exciting learning environment, where children can touch, explore, experiment, look, observe, discuss and share their ideas.
Children are provided with the appropriate and practical experience necessary to develop the understanding required for more formal learning. This is identified as the Early Years Foundation Stage.
Children in our Reception classes work towards the 'Early Learning Goals' which prepares them for the National Curriculum. The goals set are continually taught, developed and practised in a range of ways throughout the year. Our learning is not delivered in blocks of subjects. The EYFS is characterised through a holistic approach. Concepts and skills are taught in a purposeful manner, in context and following the childrens interests.
Please follow the links to download further information on the Early Learning Goals.

Parents Guide to the Early Learning Goals
Downloads

Spelling List
Reading Bag Homework Video
Although we set out topics and themes for the year, the children are encouraged to lead our learning. Should they show interest in a specific subject or element of our topic, we will go 'off plan' to follow this. Please use the images in the table below to see our topics and the types of activities and subjects we may cover. Bear in mind that these can change!
| | | |
| --- | --- | --- |
| Autumn 1 | Spring 1 | Summer 1 |
| Autumn 2 | Spring 2 | Summer 2 |
Our Learning so far...
Autumn 1 Ourselves
The staff have been busy over the summer making a few small changes to the classroom. We can't wait for everyone to join us next week! We are looking forward to seeing you on your home visits and hope you are excited too.
This week we have been thinking about our bodies and how doctors keep us healthy. We also listened to the story 'Funnybones' by Janet & Allan Ahlberg, and created our own skeletons.
Autumn 2 Celebrations
We started this half term with a BANG! It was going to be Bonfire night, so much of our play was based around experimenting to make explosions! (Don't worry Mum's and Dad's, not real ones!) We learnt about the Hindu festival of lights called 'Diwali' and made our own clay divas too.
We noticed the weather had changed and the days were darker, so this week we explored Autumn. We went for a walk in the woods and collected leaves and seeds to use in our artwork. We read the story of 'Leaf Man' by Lois Ehlert and created our own leaf men. We also learnt about Remembrance Day and why it is so important for many families.
Another exciting celebration this week - Pudsey Bear Day! We were thrilled so see the real Pudsey Bear in our school, and helped to raise lots of money by dressing up and making bear biscuits. We also learnt about Nocturnal animals this week, finding out which animals like to have fun whilst we are fast asleep!
It was Owls week, and we learnt lots of facts about Owls, writing our own facts. We ended the week listening to the story 'Owl Babies', re-enacted by Simon and Sian. We also had a lovely time when some of our families stayed to play and read with us.
Have a look at our freeze frames of the story 'Owl Babies'.
This week we have explored darkness and light, which led us to think about the nocturnal animals which come out at night. We enjoyed finding out 'batty' facts.
It's beginning to look a lot like Christmas... We have been very busy planning and practising for our Nativity performance, although we have managed to squeeze in some time to engage in some Christmas activities.
Spring 1 A Pirates Life for Me!
After a wonderful Christmas break we are back to a life on the ocean waves. I wonder where the tides will take us this half term. We have explored the life of a pirate, what a pirate needs and learnt the story 'Captain Yellow Belly'. We have investigated which objects float or sink and found out why. We have built pirate ships using lots of different materials.
We have enjoyed the snow!
Spring 2 Who Lives in the Wild West?
This half term we have discovered that the Wild West really exists! We have enjoyed being cowboys and Native American Indians and discovering which animals live in such a hot place. We read 'The Gingerbread Cowboy' which led us to creating lots of Gingerbread Man artwork.
We had fun on World Book Day.
Easter! We hatched our own chicks, created cards, enjoyed egg rolling and met the Easter bunny.
Summer 1 Fairy Tales
We have kicked off the term by reading 'Jack and the Beanstalk'. We have searched for giants, grown our own beanstalks and discovered who lives in a castle.